Passion for Northumberland

The Last Supper, served from the deli behind the soldiers. Satan is crouching by the bench, on the left, behind Judas, the hen-party are on the right. Today is the 31st of March, Easter Sunday 2013. Not since I discovered in 1993 that Jesus really is alive and wanted a relationship with me, have I been so moved spiritually and in every way. Hence – this new blog post. My apologies that it is the longest so far, but I feel I need to get all these impressions down. This is my personal point of view, as one of the disciples. The photos were mostly taken by Emily Hammond, Ed Butlin, Chris Friend & myself, click on them to open in a larger form, then click on the back arrow to return to this page. Those marked as images from North East Press are by Jane Coltman, of the Northumberland Gazette.
A few short months ago I heard that people in our church (Alnwick Baptist) were joining with others, from other denominations and people from no church at all, to present "Passion for Northumberland".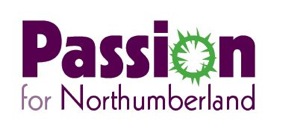 To quote from the website:
www.passionfornorthumberland.org.uk
"Passion for Northumberland is a project to dramatise the Easter Story on Good Friday, 29th March 2013 in the heart of Northumberland, in Alnwick Market Square. Through live drama and singing, this all-age Passion Play by the Community, for the Community, will tell the story in a contemporary style, whilst remaining true to the Bible's account of events".
Now, what Rob and I had never told anyone was something that happened over 6 years ago, when we visited Alnwick to test what we thought was God prompting us to move 400 miles northeast from Minehead in Somerset to this town of Alnwick, in north Northumberland.
We were sitting outside the Lunchbox café, in the Alnwick Market  Square/Place, having our lunch and enjoying the sunshine. Rob told me he had a vision of a Passion Play being presented here at some time in the future. Rob had moved from a town where they had a form of Passion Play and he felt that this sheltered old Market Place, the center of the town for centuries, was an ideal natural theatre.  We kept this to ourselves but 'pondered it in our hearts'.
So we were thrilled to hear that others had that dream too, indeed we learned recently that Chris Friend, our church's Community Worker and coordinator of PFN, had also had this vision about the same time as Rob! Not that we even knew him then.
We decided to go along to the rehearsals and see what part we could play in this production. I thought originally that I could offer to sew costumes, but it was to be in contemporary clothing. Rob's 'job' was immediately apparent – he would attend all the rehearsals and simply sit and pray silently for the whole evening. Something we certainly needed, it was good to see him there week after week, though we knew a lot of prayer was going up in other parts of the town.
What I didn't expect was to be drafted, that first evening, into the small band of disciples – hey – I did say it was set in the here and now so women had an equal opportunity 😉 In fact there was a serious shortage of cast but that didn't deter anyone. We were ably coordinated, directed and supported by Chris Friend, Chris Jones and Libby Taylor, who was also the contact for the media.  The main characters were already decided, Richard, a farmer, was Jesus AKA "A joiner from Shillbottle, a local village", Keith, a teacher, was the chief baddy – the truly scary Caiaphas (the Chief Priest), Dean was to be Pontius Pilate and also The Narrator, who expertly 'wove' the story together. They had various henchmen/men in suits and security guards/soldiers. There were other characters too such as Charis a young woman from a village near Alnwick, playing Mary Magdalene who was to be part of a hen-party, out with her friend, bride-to-be Ronny (Veronica) and their girl-friends. Trevor was excellent as Judas, a hard role to play.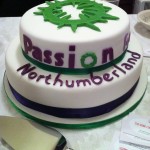 Ed Butlin was in charge of the technical side of things, a vital part of the production. We were not actually going to cause any serious bodily harm to Richard so the Big Screen, with pre-recorded driving in of nails, with sound effects and clenching of fists on a wooden beam were part of the effects. Plus the "Story so far" , which was shown at the start with 'headlines' under the banner of the local Northumberland Gazette. And some grainy black & white video shots of a terrifying Caiaphas ranting against Jesus. This all entailed a lot of behind-the-scenes preparation by Ed and his tech team – which also grew as the weeks went by. Early version of The Passion opening video
The performance was taking place over the whole of the cobbled Market Place, with the 'baddies' mostly on the Town Hall steps and the disciples hanging out around the Market Cross on the opposite side. So Ed and his team planned to film the action that was taking place and have the main characters spot lit, and showing on the big screen so the public would be able to follow the story, around 7 of them had radio mikes, always tricky in such a big outdoor space! And remarkably, only one played up briefly.
As the weeks of rehearsal went by the script changed as ideas were worked out and either adapted, discarded or included, Chris Jones had written the story and seemed content with changes that appeared along the way "This works better if Mary, Jesus and Judas form the three points of a triangle during the confrontation over the perfume" being one such adaptation. Here are some of the quick shots of our rehearsals to give you an idea…
As I said, there were not many cast members in the first couple of weeks, around 20 I believe but we firmly believed that God wanted this to go ahead so just kept rehearsing, talking about the Passion for Northumberland at every chance we got and left the problems that were out of our control in His hands! Various radio and newspaper interviews helped too.
One of the many "coincidences" in this project was that 3 of the core team – Chris Jones, Libby Taylor and Ed Butlin were, for different reasons, all fairly free of other day-to-day commitments during the months of planning and rehearsal, and also that Easter was early enough that the lambing hadn't yet started in earnest for the local farmers – including Richard!
Gradually, week-by-week more people came along to be part of this project, including a friend of ours, Marty, with his strong Geordie accent who was perfect as loudmouthed Peter!
The Alnwick Community Choir under Peter Brown was rehearsing separately from us too
and even though one rehearsal had to be cancelled due to snow we soldiered on. We used the Town Hall as our indoor "Market Place", with sheets of paper on the floor marking the various buildings and the stages, with chairs forming the Market Cross – where Jesus and his growing band of disciples hung out…it served as our base and as the Garden of Gethsemane.
We got quite adept at 'falling asleep' piled on top of each other at awkward angles across those chairs! This was one of the coldest Marches on record but we did do a couple of, much needed, outdoor rehearsals in snow showers and bitterly cold evenings, with the added bonus of all the extra layers of clothing softening the even more uncomfortable stone steps surrounding the Market Cross! My striped hat helped keep me warm.
The difference was very challenging as the sheer size of the Market Place pre-microphones made hearing lines and cues difficult and it took a lot of imagination to work out timings and movements for when the space would be filled with crowds (we trusted they would come!) plus the 3 stages, one for the 50 in the choir, one for around the Market Cross and one for the Last Supper, which would also have the big screen erected on it.
Also the Market Place was filled with parked cars on these rehearsal evenings. We certainly supplied free entertainment to the youth of Alnwick as we invaded their evening space and had many interesting remarks from them, though they joined in shouting "Crucify him" willingly when asked! At a later dress rehearsal one of them threw an egg at Marilyn which she took as a compliment to her acting skills as she roughed-up Jesus as one of the guards! On the night of the performance, their soldiers and guards ranks were swelled by the local air cadets, in camouflage uniforms, adding a threatening air of being under military occupation, as Israel was nearly 2000 years ago.
One development for me was when I asked a friend, Roger, who had a weekly show on Alnwick's own Lionheart Radio to put in a plug for PFN – he said he had just been given a second weekly show called 'Soul Stirrers' on Tuesday mornings, featuring more Christian music, and would I like to come on that and talk to him? So I did and have somehow ended up as his co-presenter so was able to talk about PFN each week. BBC Radio Newcastle and the Northumberland Gazette have also backed us well with publicity and interviews.
Random aside here – About 20 years ago I took in 3 of my son's teenage friends and they lived with us for 18 months, with around 20 of their friends using my home as a 'drop-in' center, a lasting bonus of this was that they taught me to use computers early on and, particularly, MS Publisher, great for designing posters etc.
I also worked on a team for 7 years organizing Christian events, singer/songwriters etc so I have been able to help Passion for Northumberland in printing posters, hand-outs for the public for the night and other bits and bobs. A personal extra gift for me was the weight loss I benefitted from over this past couple of weeks of constantly running up and down stairs to my 2 printers which were working overtime! I am not saying this to boast in any way, I did little enough, but just as yet another example of how God provided just the right people, with just the right skills, all along the journey that Passion for Northumberland became for all of us.
We have all taken to looking on it as a journey, almost as a pilgrimage, the group has grown from a few to many, across the churches and those who don't go to church, from all over the area and all walks and ages of life – from the youngest disciple, Rosie, aged 9, to the oldest, also a disciple, who is a Great Grandmother, I would not be so rude as to ask her age 😉                   The friendships that have been formed are close, and are a wonderful and unexpected gift to us all. When you have slept on stone steps time after time with people, all piled on top of each other with chattering teeth – the barriers seem to come down wonderfully well – a common goal and an intense time of innovation, endurance and a LOT of laughter forges good friendships.
The weather seemed to continue to defy the norm for March and so many outside people said to us "What will you do if it is snowing/blowing an icy gale/pouring with rain?" I think I was not the only cast/crew member who was replying, "If this is God's idea it's up to Him to sort out the weather – He is the only one who can!" By this time we were getting hardened to lying around in the cold and brushing off the snow, but realized it might be a tad harder to convince an audience to turn out in a blizzard. The only reason Passion for Northumberland would be cancelled was if the rain was so bad during the day and evening that the tech crew could not safely rig and use all the mikes/cameras/spot lights/screen and stages.
So we did what we could and left the rest to God. Good policy in life.
It was amazing how many people were willing to help; both the Alnwick Town and County Councils along with many others, including various churches, financially backed and practically supported us, with the Mayor being enthusiastic enough to accept the request to start the performance officially.
The local agricultural machinery suppliers presented "Jesus" with the keys of a quad bike to be photographed 'riding it into town on Palm Sunday' – even making it a Kawasaki Mule, standing in for the traditional donkey! Shame he had to give it back, especially as he was the only cast member who actually possessed a license to drive it on the public highway 😉 God does have a sense of humor you know.
The cafes around the Market Square agreed to stay open for the performance and it was arranged for the Italian Prima Deli to send a waitress out to serve us disciples the Last Supper, fantastic pizza and delicious rosemary bread, with grape juice instead of wine – so we didn't fall off the stage I think.
Every week new people joined the cast and crew, less than two weeks to go we had no stewards, but by the night itself we had around 15 I believe. One of the great things was how we have formed good friendships over the weeks with people from such a variety of backgrounds and Richard was particularly adept at forging 'his' disciples into a tight group.
We had many silly moments when we just fell about laughing with inane remarks such as referrals to sheep dip and silage when "Jesus" was anointed with Mary's perfume and he allowed us to smell him. The last rehearsal was on Maundy Thursday evening, still very cold, with the odd snow shower to make us feel at home on the Market Cross and the silliness reached such extremes that I was a bit concerned that we would be providing a farce instead of a serious presentation of the gospel story, but Libby, with her Stage Manager hat on, told us to get rid of all the jokes at this rehearsal and be ready to be serious the next night.
No problem with that as on the actual day we were overawed by the blue skies and mostly sunshine God gifted us and a very intense feeling that He was totally in charge. The big question of how many would actually turn up on a cold night to watch us, and how it would impact them to think about the person of Jesus, and His sacrificial death for them were, again, matters we had no control over. We did ensure that there would be a pastoral team in the Market Place, wearing white hoodies with the logo and 'Its Friday…' on the front and '…but Sunday is coming' on the back. On the 'hand-outs' were also ways to contact Chris Friend with queries and also an insert with all the local Easter Services included, again, under the slogan of  'It's Friday.…but Sunday is coming…His story continues…'
The last thing we wanted was to leave people with only the horrendous death of Jesus fixed in their minds with no hope of the vital resurrection story to come.
The tech team/crew were busy from morning till late at night, setting up, running and taking down all the electronics and stages, with many people asking what they were up to. They had cameras, mikes and speakers all over the place, running them from the Town Hall and the Northumberland Hall and controlled from their desk underneath it. Their work was a little challenged by the monthly Farmers' Market being on in the Market Place all day! But they did a great job, though a technical hitch caused a slight delay in starting.
This had all the cast – 'trembling in the upper room' of the Town Hall. Richard and his disciples had a huddled prayer time first, much needed. The Hen Party would lead off down the back stairs and sneak around to enter from one side of the Market Place as we disciples circled around to the other side coming in from the back of the crowds, estimated later at  500+!
We took a collective deep breath, and slipping automatically into our roles, we started walking through the crowds, following 'Jesus', chatting to people and reacting to the words of the narrator, even down to making M for Mo signs! We were totally involved in every way; so much so that we hardly noticed the crowd once we were on our 'base' by the Market Cross.
The choir sang at intervals through the story and we have since been told that they were very good, but to be honest, I don't think we heard them as we were so totally absorbed in our parts in the story, the growing sense of doom seemed to affect us deeply.
I know I am not the only person for whom that performance was not in any way play-acting, but an intense reliving, as it were, of the events of that first Holy Week. We felt light-hearted as Mary anointed Jesus with perfume, outraged annoyance at Judas ranting at her and Jesus then puzzled and concerned by his remarking that she was anointing him for his death and burial, but pleased that Jesus protected and soothed her. We welcomed her joyfully as one of us. (Slight problem as this disciple struggled to get her green 'disciple's' hoodie over Mary's head without damaging her tiny radio mike.)
When we had rehearsed the Last Supper, we had been told to chat amiably and we did just that, enjoying the food, drink and companionship, only to be bought up short again by Jesus solemnly announcing that this bread and wine was his body and blood, yet more references to his coming death. Annoyance at Judas taking phone calls (from Caiaphas), interrupting our time together, and puzzlement at his leaving us. Lured away by satan crouching behind him.
Back at the Market Cross, we settled down for the Gethsemane scene where we fall asleep, trying not to react to those poignant words "Not my will, Father, But yours", again satan could be heard trying to use the Voice of Reason to persuade Jesus not to accept this horrendous ordeal. Then being shaken awake into shock and threat at the arrest and feeling real fear as Caiaphas and the soldiers roughly took our leader and friend away. With Peter following and declaring he would never desert Jesus……..We had to disperse in fear and hide in twos and threes in the crowd, leaving poor Peter to then face various people challenging him three times, followed each time by the sound of a cock crowing. He was devastated, weeping and sobbing in anguish as he realized he had failed all his brave statements.  Eventually we all crept back to join him, crying alongside him in grief and terror.
Jesus is then bought out in his orange "terrorist" jumpsuit, bloodied and handcuffed, to be taunted and beaten by the soldiers. Richard had suggested that big Simon, as one of the soldiers, should really hit him; he complied and actually broke his stick on poor Richard! The soldiers strip Jesus of his purple hoodie and play poker for it, as he lies behind them, helpless and battered.
At this point Judas is appalled at what had now happened as a result of his complicity, and attempts to stop Caiaphas, but is unsuccessful. Judas shrank off into the tunnel with a gun in his hand and we hear the words "Jesus forgive me – it wasn't meant to be like this." As his gunshot rang out we were again shocked and upset, struck once again by the reality of this story that we had rehearsed so many times.  The mock 'trial' continues.
Pilate's wife tries to persuade him not to have anything to do with this plot against Jesus but he hopes to get away with releasing Jesus by having Barabbas executed instead. The disciples now stand and start screaming in support of Jesus as the soldiers, Caiaphas and his menacing henchmen in black suits and dark glasses manipulate the crowd.
Several friends have since said they found it extremely hard, if not impossible to shout "Crucify Him" against Jesus but the disciples cries were eventually drowned out and the death sentence was passed on Jesus. Now we have practiced for weeks at our distraught reaction to this moment and the following scene but nothing prepared us for our very real despair and grief we felt as we fell to our knees, hanging onto each other and sobbing, with real emotions, and tears.
As Jesus is led away for execution 'Ronnie' takes off her bride-to-be veil and wipes Jesus' face with it, then a hood is pulled over his head and he is crowned with thorns.
The rest is played out on the screen as the video of the paparazzi trying to get better shots, then the crucifixion, then we heard that voice "Father forgive them…" followed a few moments later by the final line "Father, into your hands I commit my spirit."
The closing video of The Passion
The symbol of the Passion – the Crown of Thorns – is then lit on top of the Market Cross and we gradually got to our feet to look up at it, with our shoulders back to symbolize that there was hope for the future.
In a daze we met up with family and friends, personally I just kept finding myself crying when I tried to talk about the effect it had on me. I know many people, in the cast/crew and audience were silent and tearful too. The hand-outs were given out with the invitations to the Sunday services – to follow-up His story.
Most who had been a part of this epic journey then  gathered upstairs for cake and drinks.                                                                                                    To try and wind down and get back to earth again.
I did not sleep much at all that first night, crying and praying through the night, unable to let go of the deep emotions, as the reality of Christ's sacrifice hit me once again, now, 4 days later as I finish this blog, I am still moved to tears when I speak of it.
It will be interesting to see who takes up the challenge and privilege of putting on the next Passion for Northumberland.
May God touch many hearts and souls with the truth of His passion for the whole world.
For God loved the world so much that he gave his one and only Son, so that everyone who believes in him will not perish but have eternal life.             John 3:16 NLT
Sorry this is no longer available. For a brilliant photo report of Passion, see this photo video from Jane Coltman from the Northumberland Gazette Jane Coltman photos