When my elder son, Kjell, went off to Oregon to seek his fortune he met a treasure named Kim, an amazing professional photographer who had lived in Portland since her family migrated to the USA when she was 8. They fell in love and, when he lost his job, decided on a quick legal marriage so he could apply for his green card, become a registered alien (always thought there was something strange about him) and stay in the city he loved, with the woman he loved. They set up a business producing and selling Plywerk – eco-conscious photo mounting & art panels. Handmade in Portland, Oregon by sandal-wearing, tofu-eating, bike-riders. (from their site!)
In 2007  I travelled the 5000 miles from our home in the north east of England to attend their big church wedding in Portland on 7/7/7. Unfortunately my husband, my sons' step-dad, Rob, was recovering from 2 heart attacks and could not get insurance to accompany me. But I had an amazing time, meeting my daughter-in-law Kim for the first time, all her family and their friends. I was stunned by the beauty of Oregon, its mountains, rivers, Pacific coast and Portland city, with its mix of so many different people, stores, restaurants and, especially the Saturday (and Sunday) Market!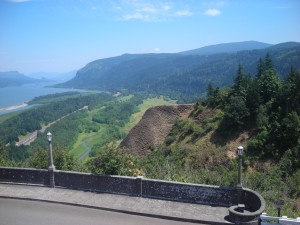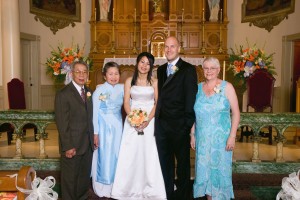 I have been to Florida and New York several times but found Oregon so much more to my taste. Relaxed, environmentally friendly and so unspoilt.
Meanwhile my younger son, Pieter, (their late father had been Dutch, hence the names) was embarked on a 3 year course here in the UK on 'Youth Studies and Applied Theology'.  After he graduated he decided to go and visit his big bro in the USA as he could not decide what else to do. Too much thinking is very tiring. To cut a long story short he met a lovely, gifted Portland girl (this is getting repetitive) at church there, they fell in love and, when his allotted 3 months visa was up, returned to us, very miserable and constantly on Skype to her! He flew back to Oregon a few months later and he married Keven (yes she is a girl) in a quick wedding. So now BOTH my sons live in Portland! Rob and I flew together to their big wedding – in a forest glade on Mount Hood – in July 2010 and the rest of that story is another post!