Banana & Fruit Cake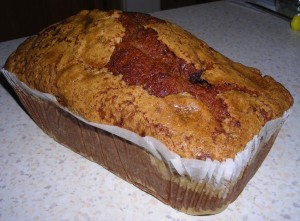 Use a 2 pound (900 gram) loaf tin. This tin holds almost 1 litre of water…if you need to check the size! You can either grease and line it with paper or simply buy the pleated paper liners. Very cheap, dead easy.
2 ripe bananas, thaw first if frozen (freezing them seems to make the flavour better, but they look strange!)
1 level teaspoon Bicarbonate of Soda
2 tablespoons boiling milk
4 oz. (100 gm) soft margarine
6 oz. (175 gm) any brown or white sugar
2 eggs
8 oz. (225 gm) plain flour
1 level teaspoon baking powder
4 oz. (100 gm) any dried fruit- sultanas, raisins, pineapple, cranberries, dates, cherries etc. (I often use 2 oz each of halved glace cherries and quartered dates)
Heat oven to 350f, 180c, gas mark 4.
Boil milk in microwave (or on hob) and dissolve Bicarb. in it. But be aware that it will froth up when you add the B of S!  Peel bananas, mash in large bowl. Add to bowl, add all the other ingredients and beat it to death with a mixer for a few minutes till it is well mixed, it is a very sloppy, wet mix. Turn into tin, smooth top, sprinkle with sugar and bake for 1¼ to1½ hours till loaf is well risen and golden brown. Check it is not still too moist by inserting a skewer or sharp knife. Leave in tin for about 15 minutes then turn out to cool. Serve as it is or spread with butter.