The 9/11 series of novels by Karen Kingsbury. Published by Zondervan.
1. One Tuesday Morning  (2003)
2. Beyond Tuesday Morning  (2004)
3. Every Now & Then (2008)
All widely available in both print and audio formats.
I have read and re-read these three books by Karen Kingsbury. Obviously very well researched and gripping novels in their own right they also help us all to deal with the mixed emotions that can turn our lives upside down. Of course they deal with probably the hardest tragedy that the USA has had to deal with, but on a personal level, I too, have had to face challenges and asked why a loving, all-powerful God can allow families to be bereaved? Why evil, in whatever form, can seem to win, the innocent be victimised? The story of the emergency personnel, their families, the (true) amazing work that began, and continued, in St Pauls Chapel – all those caught up in the horror of that Tuesday morning and its aftermath are told in a realistic way that made me grieve for all those whose lives were touched forever by the Twin Towers disaster. But love is stronger than hate, stronger than death and somehow good can come from what was meant for evil.
Karen Kingsbury wrote this novel as a way of grieving the events of September 11, 2001. One Tuesday Morning is the emotionally-gripping story of a devoted fire-fighter, and a driven businessman, strangers from opposite sides of the country with the same face. They meet in the stairwell of the South Tower that fateful Tuesday morning, but only one of them will leave the building alive. Battling amnesia, the survivor must learn how to be the husband and father he never was, by living in the shoes of a man who no longer is.
Beyond Tuesday Morning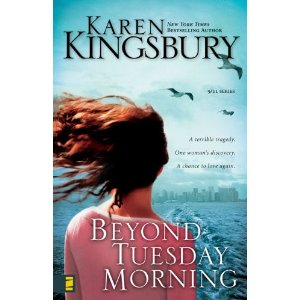 It's been three years since the terrorist attacks on New York City, but FDNY widow Jamie Bryan keeps waking up to the aching pain of that one Tuesday morning, the morning of September 11, 2001.
Determined to find meaning in her grief, Jamie pours her life into volunteer work at St. Paul's, the small memorial chapel across from where the twin towers once stood. In the stream of broken, grieving people who make their way through the church doors, Jamie connects with two men – a fire-fighter forever changed by the attacks, and a Los Angeles police officer
Every now and then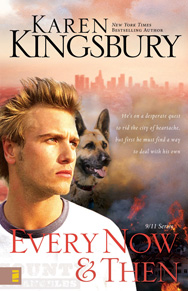 Karen takes up the story again of the characters from her previous  9/11 series in this book  focusing on sheriff's deputy Alex Brady, who lost his fireman father in the twin towers attack. Now 25 years old, Brady, whose faith once ran sure and strong, turned from God and family after his father's death. He relocates to California and spends all his time trying to find the bad guys and put them away with the aid of his K-9 partner, Bo. Bent on preventing arsonists from setting more fires, Brady is stunned to discover that others have endured similar loss but have made peace and moved on.